Skin
Consultation
| A conversation to discover and determine your path forward |
Skin consultations allow for you to meet with an esthetician to discuss your overall skin health, skin needs, and skin issues. Your esthetician may recommend a treatment plan and skin care advice. The cost of the consultation can be applied to product purchased at that visit. This is an opportunity to get specific advice on what your at-home skin care routine should look like to meet your skin goals.
15 minutes | 25
Revive Signature
Facial
| An experience for instant results of firm, smooth skin |
Enjoy the ultimate experience with this facial that includes the latest ingredients from marine bio-technology to plump the skin and smooth wrinkles. The art of youth performance reveals the full potential of natural smoothing, plumping, radiance
boosting and nourishing ingredients. Expert skin wellness and youth restoring massage techniques deliver instant results in preparation for a supreme mask with all the benefits of marine bio-technology.After a thorough double exfoliation and deep cleansing process, a Pro-Youth Massage is performed with massage tools and a skin regenerating concentrate. This massage provides instant results to relax wrinkles and tighten the skin. Finally a warm wax mask is painted over the skin to deliver a final dose of Extra Marine Filler and to seal in the treatment's youthful benefits. This signature treatment is an experience unlike any other, and is our most popular facial.
75 minutes | 195-230
Seaside Solutions
Facial
| Customizable for all skin types |
The perfect opening note to your spa experience, this classic facial treatment combines all the skin specific solutions of a European facial and much more. A highly concentrated marine mask, selected especially for your skin type, targets the improvement of the skin's functions, producing exceptional results. No matter the skin-type, an awakened complexion with a dewy, radiance is the powerful result. This facial is beneficial for everyone!
50 minutes | 145-180
Extended Youth
Facial
| Focused on anti-aging, anti-wrinkle, and firming |
From the depths of the ocean & the coastlines of France natural solutions are found to restore a youthful texture and radiance to the skin. A marine AHA scrub is used to polish the complexion to smoothness, then Sea Retinol is used to boost cellular turnover for skin regeneration. Finally, a specially formulated rubberizing mask* reduces the depth of wrinkles and resuscitates the skin's natural firmness, while free radicals (the primary cause premature damage) are outsmarted to curb premature aging.
*mask included in the 80 minute service
50 minutes | 190-225
80 minutes | 250-285
Acnipur Blemish Solution
Facial
| For frequent to constant breakouts or inflamed acne |
This proven facial treatment addresses the major symptoms of acne to help purify and normalize the complexion. First a mild acid dis-encrusting peel is used to soften the surface of the skin and begin the deep cleansing process*. Then a deep pore extraction is performed to remove the impurities responsible for causing inflamed breakout. A special post-extraction serum reduces redness and inflammation to increase the skin's repair response. Finally a cool, creamy mask absorbs impurities, while soothing the skin. For optimal results, this facial should be enjoyed frequently and paired with a homecare program.
50 minutes | 175-210
Revive

Signature Face & Body Treatment

| A whole body service for the ultimate spa experience |

If feelings of fatigue, stress, and low energy are creating imbalance for your physical and emotional well-being, sea water is the perfect solution. An essential oil infused seawater gel provides all the trace minerals to rebalance sluggish cells, eliminating the cause of many skin and body conditions. This treatment combines the benefits of the Remineralizing Body Wrap and key elements of the Revive Signature Facial - our two most popular services in one.

60min | 250-275
FACIAL ENHANCEMENT SERVICES
- High Frequency Acne Spot Treatment $35
- Microdermabrasion Enhancement $35
- Detoxifying Pore Treatment $35
- Celluma Light Therapy 15 minute $35 | 30 minute $60
- Phytomer Exfoliating Lip Treatment $35
- 15 minute Scalp Massage $35
- Self-Heating Mud Pack on Back or Feet $45
- Self Heating Mud on Back & Feet $75
- Lip Hydrating Mask $15
- Eye Perfection Radiance Smoothing Treatment $50
Revive
Peels & Peel Alternatives
PCA
Peels
Professionally applied peel solutions exfoliate dead skin cells and help healthy skin cells rise to the surface. These treatments allow deeper layers of fresh and untouched skin to be revealed. The result of monthly treatments can even skin tone, clear acne, improve the appearance of aging skin and make dull complexions glow.
The type of chemical peel administered will depend on your skin type, concern, Fitzpatrick type, and skincare habits. Prior to receiving your service, your skincare professional will consult with you to create a customized and maintainable treatment plan for your specific skin needs and goals, as well as give you a plan to maintain results with advanced homecare. If your consultation with your provider leads to the need for a stronger approach, a 4% Retinol Peel enhancement is available to be added to your treatment.
Our spa has a variety of peels tailored for every skin type and concern.
PCA Acne Peel
PCA Preventative Peel
PCA Sensitive Skin Peel
PCA Pigmentation Peel
PCA Anti-aging Peel
45 minutes | 135-160
PCA
Body Peels
Although chemical body peels use the same skin-boosting acids as facial peels, they're usually more concentrated. Body peels can be used to correct dryness, rough patches, uneven skin, wrinkles, and acne. A series of peel treatments improve the appearance of uneven pigmentation while making your skin look softer, smoother, and more radiant.
Your PCA certified esthetician will review your symptoms and recommend which peel and how many treatments are appropriate to reach your goals. Peels can treat a variety of symptoms: active acne, aging, sun damage, pigmentation irregularities, and more. Pricing is custom depending on which solution is chosen and the size of the area treated.
MEDIUM TREATMENT AREA
Arms (Lower or Upper)
Back (Lower or Upper)
Feet
Hands
Shoulders
LARGE TREATMENT AREA
Full Arms
Full Back
Chest
Legs
45 minutes | medium area 150-185 | large area 200-235
Oxygenating
Trio
The Oxygenating Trio has been part of PCA SKIN's professional treatment offerings for over a decade. It has long been a favorite amongst PCA SKIN practitioners and their patients.
The Oxygenating Trio is a three-step system designed to promote a radiant, healthy glow by stimulating oxygenation and circulation within the skin in order to rejuvenate sluggish, stressed or acne affected skin.
Use of the Oxy Trio is also recommended to help clear acne, on smoker's skin, or simply to reveal the radiant, healthy skin beneath the surface.
The Oxygenating Trio is also appropriate to use between peel treatments, when exfoliation or flaking is not desired or indicated.
This treatment is also ideal two to three days before a special event. It draws oxygen to the skin's surface, producing a rosy flush and a rapid warming sensation, resulting in a radiant, healthy look.
Best results will be seen after a series of 6 treatments.
30 minutes | 125-160
Microdermabrasion
Treatment
Microdermabrasion is a facial procedure that uses manual exfoliation to remove the outer layer of skin. This process works in a series to achieve the best results. We use a diamond tipped wand to abrade the surface of your skin. Your skin will first be prepped with a cleanser appropriate to your skin type. This treatment is followed by the application of appropriate serums and replenishing moisturizers that leave your skin refreshed and resurfaced.
30 minutes | 125-160
Brighten, Lighten, and Tighten
Enzymatic Treatment
The BLT Treatment features PCA's professional enzymatic treatment. This advanced treatment combines gentle, yet powerful enzymatic and AHA exfoliation with unparalleled antioxidant and anti-inflammatory benefits. The result is bright, glowing, and strengthened skin. Papaya enzymes greatly improve skin texture and deliver gentle skin-smoothing benefits. This treatment includes one of PCA's Therapeutic Papaya Treatment Masks. This results-oriented therapeutic mask is appropriate for all skin types and conditions and contains active ingredients that exfoliate, brighten the complexion and contain moisturizing antioxidants. The treatment will leave your skin feeling healthy, hydrated and glowing.
Best results will be seen after a series of 6 treatments.
45 minutes | 125-160
f.a.q.
Frequently Asking Questions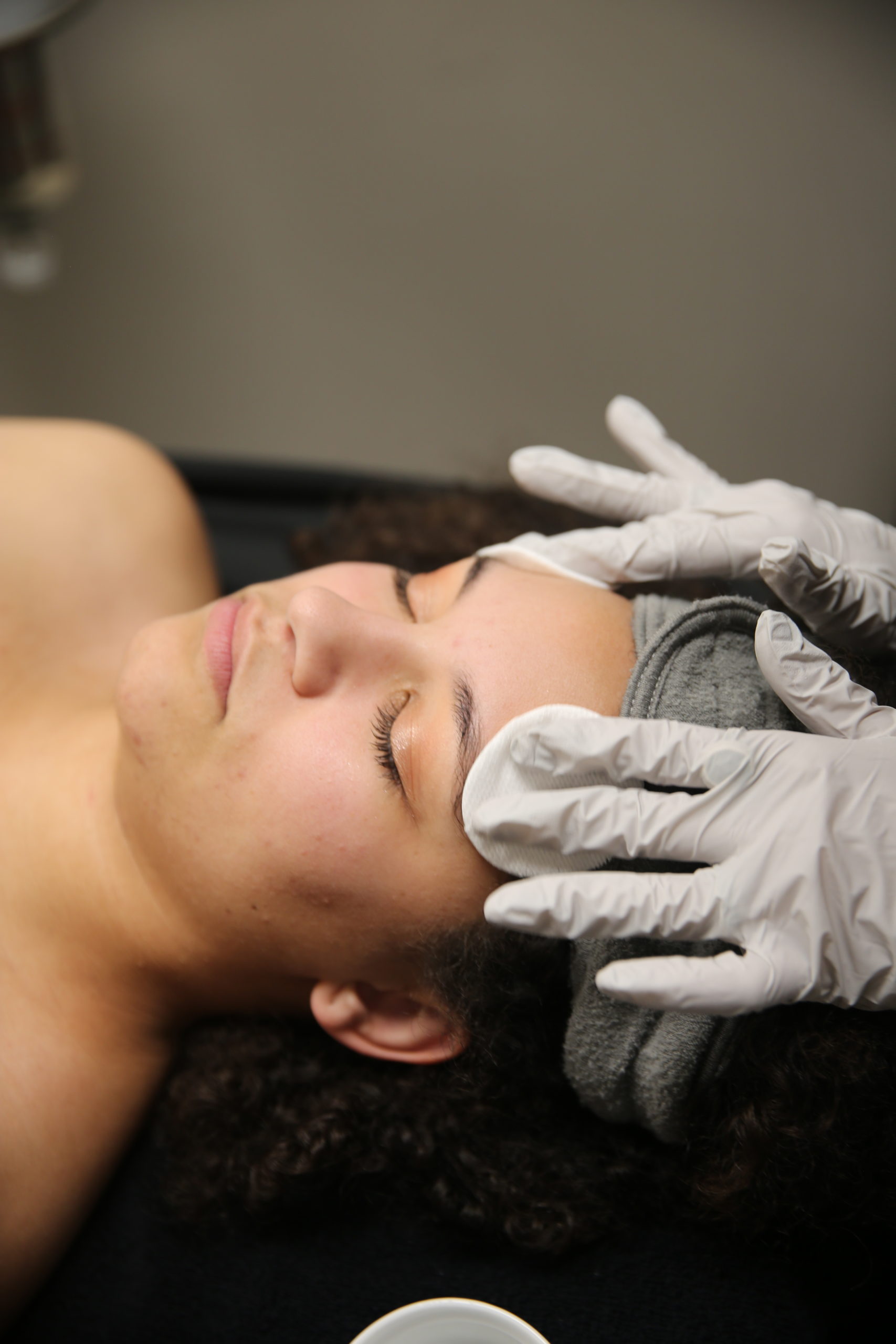 How much down time is expected with a chemical peel?
Chemical peels have little to no downtime. However, the deeper the chemical peel, the higher chance of peeling. Micro peels and mid-depth peels have little to no downtime, while the 4% retinol peel (the deepest chemical peel offered) will likely cause your skin to peel more dramatically.
What are the benefits of chemical peels?
Chemical peels are skin-resurfacing procedures that help treat sun damage, hyperpigmentation, acne, light scarring, fine lines, age spots, and help improve the overall look and texture of your skin. A series of treatments is recommended for best results.
What is the recovery time for a Chemical Peel?
Recovery time after a chemical peel is dependent on the type of peel. The peels we perform have no down time. The only limitation is we ask that you don't do anything that raises your body temperature for 24-48 hours because it can reactive the peel. (Workout, Sauna, etc).
The results of a chemical peel vary depending on the peel that you receive. A superficial peel slightly reduces the signs of aging and skin damage. Medium peels are more effective in reducing signs of sun damage and fine wrinkles helping with the appearance of aging skin.
What results should I expect following a treatment?
The results of a chemical peel vary depending on the peel you receive. A superficial peel slightly reduces the signs of aging and skin damage. Medium peels are more effective in reducing signs of sun damage and fine wrinkles helping with the appearance of aging skin. A solid home care regimen and consistent use of sunscreen will make all the difference in the results you see. If you are truly ready to see results, investing in a quality home routine and SPF is a requirement and will save you a lot of money in the long run.
What are the risks of Chemical Peels?
Superficial peels are quite safe although rarely minor irritation of the skin can occur.
How much will I peel after a Chemical Peel?
The amount of shedding you experience varies by person. It is important to remember though, that peeling is a side effect of the treatment, not the goal. Not peeling doesn't mean anything negative. In fact, the same changes are happening on a cellular level.
What brand of Chemical Peels do you use?
We use PCA Skin peels because their expertly formulated chemical peels are a driving force in helping you achieve your skincare goals. PCA SKIN® is the leader in chemical peels with more than 25 years formulating the best and most innovative professional treatments in the industry. More than one million PCA SKIN peels are performed each year globally.
PCA SKIN was the first company to develop and market the modified and enhanced Jessner's peel, a solution that combines lactic acid, salicylic acid, kojic acid, citric acid and resorcinol. This revolutionary reformulation provides safer application, a more comfortable treatment and increased skin benefits. The PCA Peel® line of modified and enhanced Jessner's peels is in medical and aesthetic offices all over the world. PCA SKIN line of peels has since expanded to include TCA and lactic blended peels, retinoid peels and boosters, and chemical peel alternatives.
The professional line of treatment products is sold exclusively to PCA SKIN Certified Professionals, ensuring safe and effective application every time.
Who are Chemical Peels good for?
There are a myriad of benefits from regular chemical peel treatments. With formulations for all skin types – even those with sensitive skin – PCA SKIN peels improve skin concerns: acne, hyperpigmentation and aging. These challenging skin concerns are improved with our perfected formulas by increasing the skin's cell turnover rate, bringing new skin cells to the surface, reducing signs of fine lines, wrinkles, dark spots and clearing breakouts.
Our goal is to bring the best service and products to our community. With this in mind, we choose to only partner with brands that are leaders in innovation, that are result driven, and that hold their employees at the heart of their brand mission. We look to work with brands that are dedicated to excellence and who want to improve other people's lives. That is why we chose to work with PCA Skin & Phytomer. We empower you to check out their website and get to know them a little bit.
Our pricing varies depending on the level of the provider you see. To get exact pricing, visit our online booking site or contact us.